Hugo Weisgall's The Golden Peacock performed at the ASJM's Music In Our Time: 2012
Monday, June 11, 2012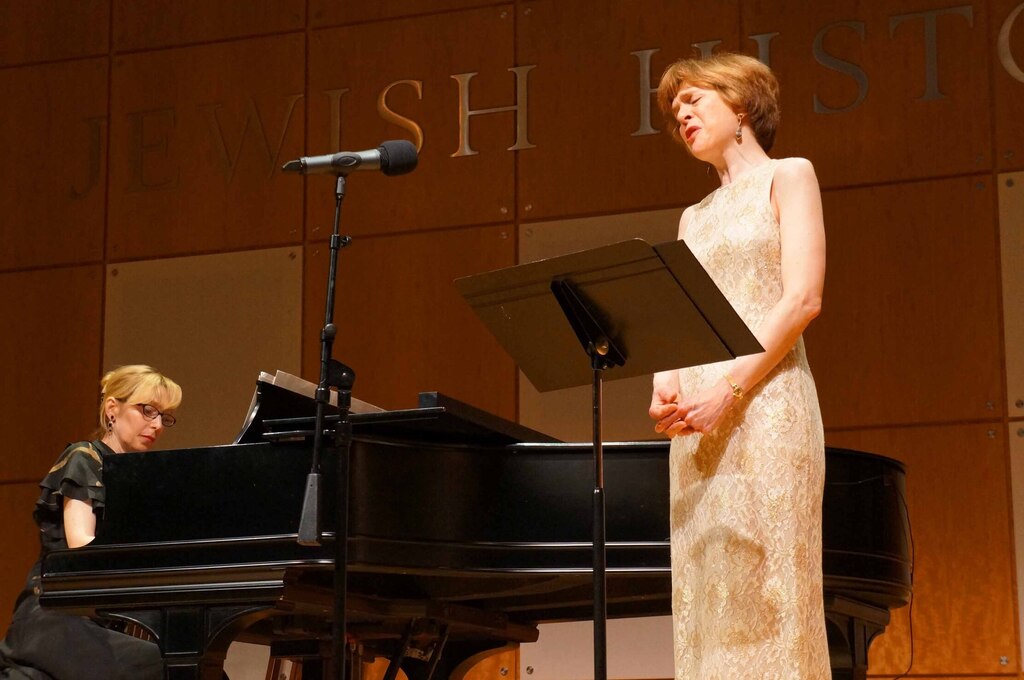 photo: Gina Genova

On Sunday, June 3, 2012 the American Society for Jewish Music presented its annual contemporary concert Music for Our Time: 2012 at The Center for Jewish History. Works by Leonard Bernstein, Jody Rockmayer, Ben Yarmolinsky, Mark Zuckerman were performed by Young Artists from Mannes College The New School for Music, and songs by Hugo Weisgall were performed by acclaimed soprano Ena Freeman and myself.

Ena and I had the privilege of performing four songs from Weisgall's The Golden Peacock: Seven Popular Songs from the Yiddish for Voice and Piano in tribute to the composer's upcoming centenary of his birth, October 13, 1912. Our connection to these songs and our first performance together of the entire work goes back to May 1997, when we performed it in the ASJM's contemporary concert at Hebrew Union College.

My history with The Golden Peacock goes back to the 1970s when Weisgall himself, a copy of the manuscript in hand, approached me in the hallway in Rathaus Hall, then home of Queens College's music department--now, and which has been for many years, the Aaron Copland School of Music. He handed me the score, stating I should "go learn this from your teacher," which I did. Morey Ritt, with whom I studied, gave the world premiere of The Golden Peacock with the late great soprano Judith Raskin, which they followed with the work's recording on CRI. It was an honor to learn it with Morey, and it has been a privilege to be performing this remarkable work ever since.


Excerpt from Music In Our Time: 2012 Program Notes

"In Hugo Weisgall's The Golden Peacock, Jewish music is presented with a brilliant synthesis of the folksong and art music styles. One of America's most important opera composers, Weisgall's (this) work may be considered a landmark and may very well rank with Bartok's settings of Hungarian songs and Britten's English songs.

Weisgall goes directly to the musical or poetic center of the song itself, purifying an emotion, highlighting an attitude, pinpointing a psychological complexity, invigorating an inherent rhythm, and overall, making room for the song to flow and expand into an artistic entity.

In a 1980 interview with pianist Laura Leon, Weisgall said: 'There is no question of the fact that the reason I am being drawn more and more to Jewish material is because I feel that I have not made the proper statement about the whole business of Hitler and the Holocaust. The man reason for The Golden Peacock is a kind of defiance-that it has to do with what I feel about my having…to make a statement about the Holocaust…Who else is going to do Yiddish folk songs…if composers like myself don't do them.' "


Hugo Weisgall's centenary with be marked with a 100th Anniversary Tribute presented by the American Society for Jewish Music on Sunday, November 18, 2012 at The Center for Jewish History, featuring the internationally renowned soprano Lauren Flanigan and cellist Eric Bartlett of the New York Philharmonic.