Sunday, March 4, 2018
3:00 PM
Music In Our Time 2018
Center for Jewish History, 15 West 16th Street, NYC (between 5th Avenue and 6th Avenue)
phone: (212) 868-4444
Price: $18.00
website: www.cjh.org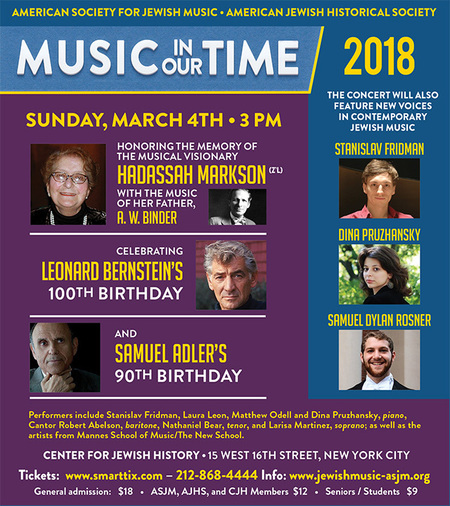 The American Society for Jewish Music and The American Jewish Historical Society present Music In Our Time 2018, the annual concert of contemporary Jewish music --this year honoring the memory of the musical visionary Hadassah Markson, with the music of her father, A.W. Binder.

Celebrating Leonard Bernstein's 100th birthday and Samuel Adler's 90th birthday, the concert will also feature new voices in contemporary Jewish music: Stanislav Fridman, Dina Pruzhansky and Samuel Dylan Rosner.

Performers will include pianists Stanislav Fridman, Laura Leon, Matthew Odell and Dina Pruzhansky; Cantor Robert Abelson, baritone; Nathaniel Bear, tenor; Larisa Martinez,soprano; and Artists from the Mannes School of Music/The New School.
export this event to my calendar